The best answer to "What lingerie should I buy for my boudoir photoshoot" is: the lingerie you feel good in. Above all else, you should feel fabulous in what you're wearing. If you don't feel like a sexy diva ready to leave a trail of broken hearts, take that s%$& off!
For most of my life I did not own lingerie, for boudoir photoshoots or anything else. Then my boyfriend bought me a lovely rose-coloured lace negligée that almost got him dumped in front of all of our friends. Once I got over my indignation, I was hooked!
It helps that I am always buying the next bit of lingerie for my boudoir photoshoot, because I always have my next one planned (professional development, guys)- so even if the kids keep us up all night and the closest to "special time" I spend with the man of my dreams is staring, zombie-like, at the TV, I know I have an excuse to buy Those Fabulous Panties and That Dreamy Robe. Boudoir photography is the ultimate free pass for shopping!
(Because we get this question so often, we've partnered with fabulous Edmonton and Ponoka (for the Red Deer studio) lingerie boutiques to arrange personal shopping experiences for our clients- let us know if you want to take advantage of this free bonus service!)
The best lingerie for your boudoir photoshoot
~Bra and Panties~
Bring a few sets, and make sure they fit! Great places to update your bra fitting and find beautiful new bras and panties include the Edmonton lingerie boutique Bayberrie Intimates, Edmonton bra shop Princess Lingerie and Ponoka bra shop Busted Lingerie, which is totally worth the trip plus you can stop by my acreage and pat the horses. Rolling you around on the bed in your underwear is a classic part of your boudoir photoshoot, so you'll want at least one set that look good on their own as well as anything you need to go under other outfits. Note: Your bra and panties don't need to match, just go well together.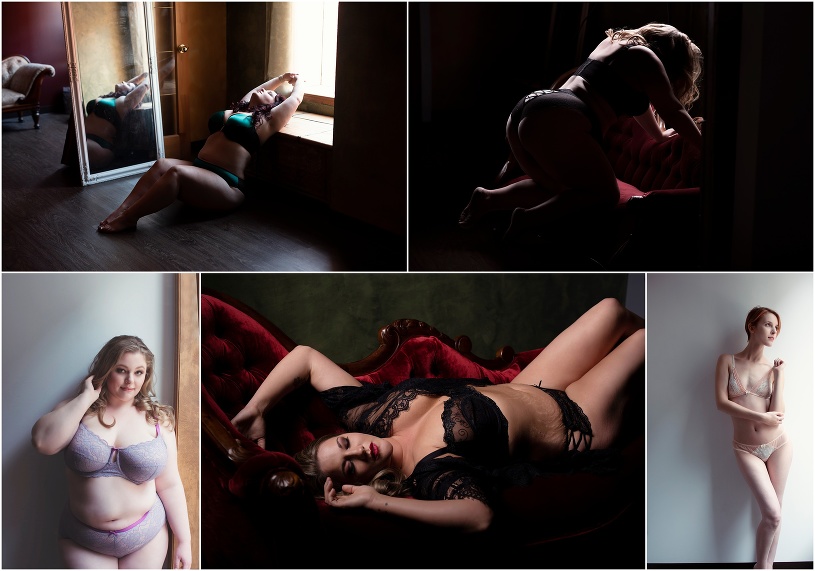 For panties, lace boyshorts and retro high-waisted briefs are my absolute favourite, but there are lots of cute styles out there. Just make sure to find underwear with a waistband that doesn't cut in, and be aware that if you choose a g-string or thong, the back will… well… disappear. Consider yourself warned.
~Stockings and garter belts~
There's not much sexier than a good pair of thigh-highs, but unfortunately most thigh-high stockings are pinchy stay-ups that dig in and both look and feel terrible. But wait, there's a solution! Old-fashioned stockings that need a garter belt are wicked sexy and photograph beautifully. Check out alternate fashion retailer Nightshade Corsets in Edmonton for a full range of size options- there's a location across the street from the studio.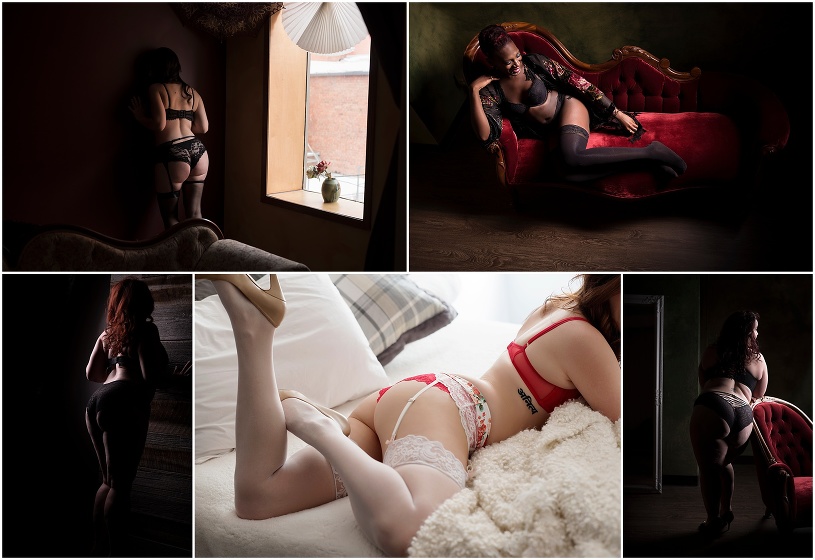 ~Negligées and babydolls~
A boudoir staple, they are fun and easy to find. Just make sure they drape well, fit nicely around your breasts and give the girls your preferred level of support. Some babydolls have a poofiness that can make your middle look big, so be very choosy.

~Corsets~
Always in fashion but so hard to find an excuse to wear, corsets are a great addition to your boudoir bag. Just don't expect to do a lot of bending! Overbust corsets can do great things for your boobs, whereas underbust corsets allow more movement and variety in posing. I have a bit of a corset problem, so the studio wardrobe has corsets to fit everyone if you don't have your own and like the look.
~Bodysuits~
Sleek and fun, bodysuits stay where they're put and are hella sexy. I know the idea of form-fitting lingerie can be intimidating, but trust me that they look fab. And if your stomach isn't your favourite thing to highlight, bodysuits can help boost your confidence (though seriously, don't worry about it- #1, you're beautiful, and #2, good light is 1000 times more important).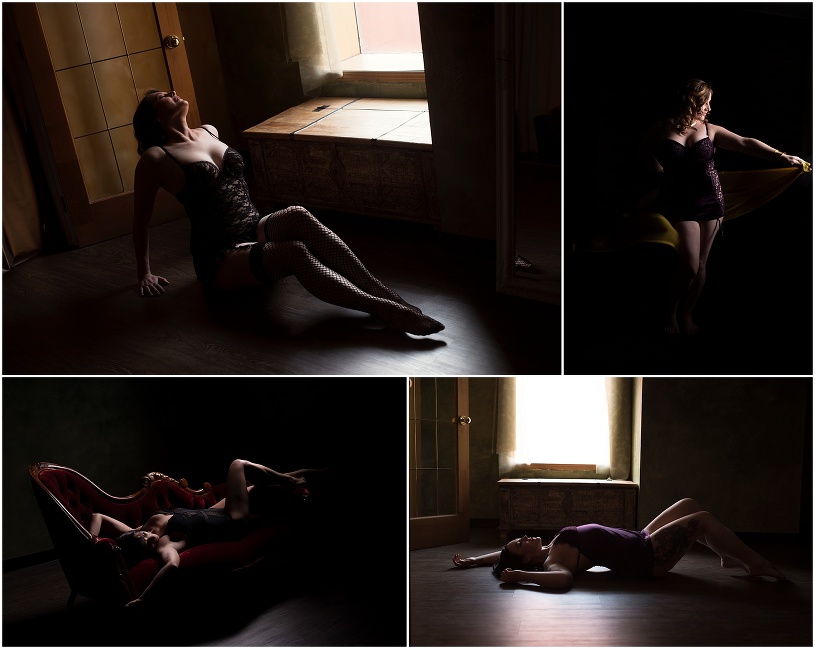 ~Heels~
The higher, the better! I can't personally walk the things, but luckily when you're deciding what to wear for your boudoir photoshoot you don't have to worry about walking. They're just there to make your bum look fantastic! Don't worry about shoes to match every outfit, though, since we do most things barefoot.
~Retro Lingerie~
High-waisted panties and longline bras have made a dramatic comeback and boudoir photographers everywhere are thrilled. Sexy and chic, these styles flatter curves and give a lovely vintage look to photographs.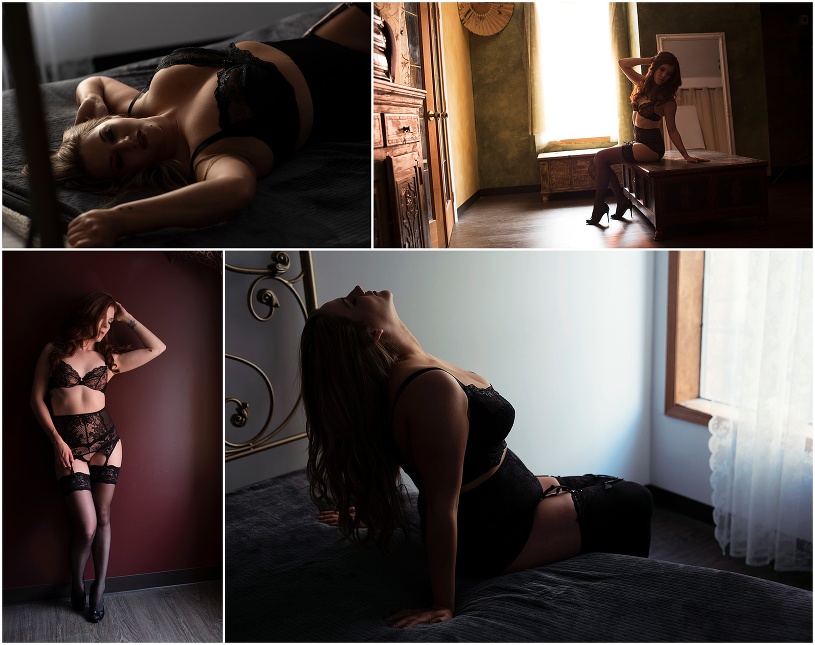 Want to know a secret, though? Buying lingerie for your boudoir photoshoot is totally optional. You can create a fabulous set of boudoir outfits from things you already have in your closet (check out this article of more casual ideas for what to wear for your boudoir session) or wear- you guessed it- nothing at all. If buying lingerie feels like a fun way of getting ready for your boudoir shoot, get out there and get shopping! But if that's not your jam, that's just fine. Your boudoir shoot is about making you feel sexy in a way that works for you, not about trying to fit you in a box. So think about what makes YOU feel sexy, and have fun getting ready!