Plus Size Boudoir Photography- Why You Need To Stop Waiting
An open letter from boudoir photographers to curvy girls around the world
First off, the phrase "plus size boudoir" makes me crazy. The whole plus size thing is ridiculous, separating people into categories according to how closely they fit our arbitrary cultural ideal; so they're words I don't usually use.  But if we don't talk very specifically about plus size boudoir it often leaves women looking through galleries of women who don't look like them and wondering if boudoir photography is something they can do.  If the photographer is going to be judging them. If it's safe to make themselves vulnerable like that. If plus size boudoir photos are even a real thing.  So, today I'm using all the words.  Plus size, curvy, voluptuous, All About The Base- and of course my favourite, "beautiful."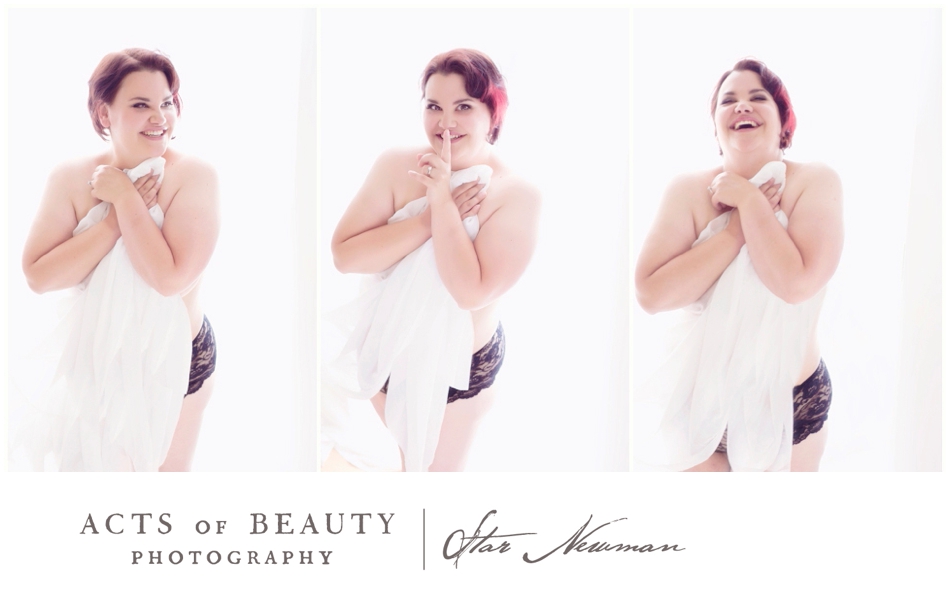 Boudoir photography is for every woman who wants to take her clothes off and rock what she's got- but that's too easy to say, isn't it. And therefore, too easy to doubt.  So today I'm talking to the curvy girls. The ones who aren't sure if they're the wrong shape to do boudoir.  The ones who are wondering if I'm going to judge their faults and their rolls and their stretch marks.
I'm talking to the women who have trouble finding lingerie because lingerie stores seem to think a size ten is extra large.  To the women who look at plus size models and wonder, if that's plus size what the hell am I??
The answer:  You. Are. Beautiful.
You are vibrant. You are sassy. You are sexy. You are voluptuous. You are smart. You are worthy. And you are worth it.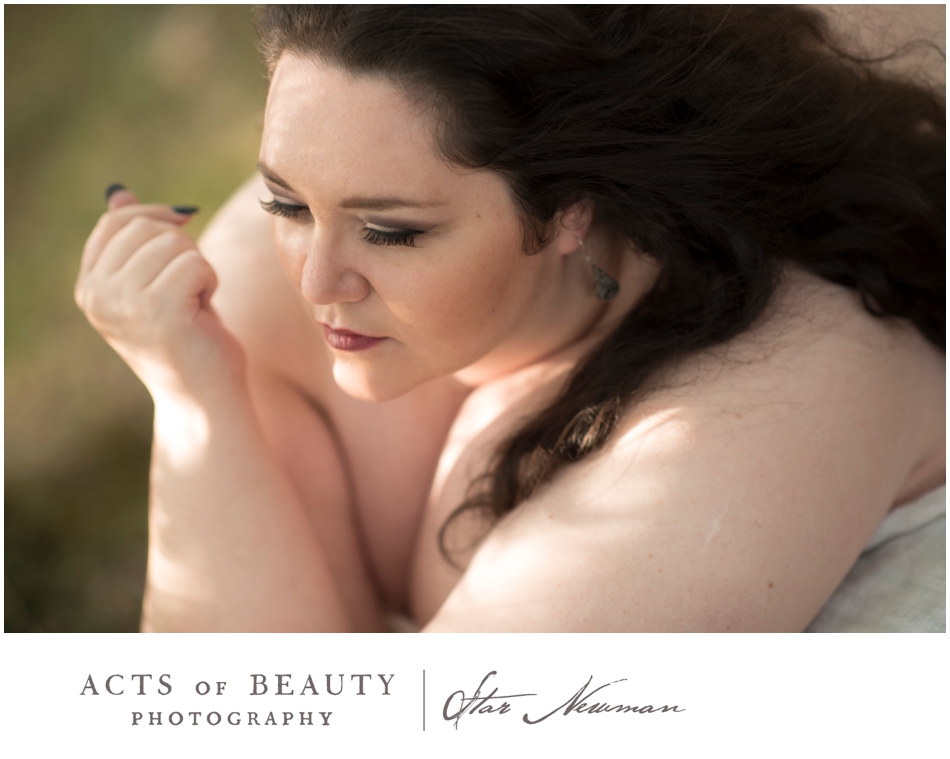 Here's What You need To Know
Yes, boudoir photography is for you.
No, you don't have to lose weight.
Yes, I genuinely believe you are beautiful.
No, I am not judging you.
Yes, you are going to love your photos.
I don't care if your waist is 20 inches or 50 or less or more.  I want you to feel beautiful in your skin, I want you to feel confident, and I want you to see the amazing woman that the people who love you see.  I want you to set aside for an hour or a day or a week- or a lifetime, if you can- all the old hurts and the mean words and the self-doubt you are carrying.
What are you waiting for?
Maybe you want to get fitter, eat better, lose weight- that's fine. But don't let it hold you back.  It's time to love yourself the way you are now.  Don't wait.  Don't waste another minute of your life feeling like you're not good enough. Beauty is not a dress size or a waist measurement. There is no number that defines beauty. Beauty is an attitude. Beauty is a choice, and I want you to make it.
So go right now and find a boudoir photographer you can trust, and take your clothes off.  Being naked, or nearly naked, in front of someone you barely know is going to change your life.  Okay, yes, it's also terrifying, but a good boudoir photographer is going to help you through that.  Choose someone who has done boudoir for plus-size women before, who has curvy girls in her portfolio, and pay what you're worth- the real pros aren't cheap and in the words of my friend Denver Boudoir Photographer Brooke Summer, when you take your clothes off for someone is cheap really the way you want to describe the experience? It's an investment, and you are worth it.
I have photographed women of every shape and size, women who have been told they were fat and women who were told to eat a cheeseburger and women who were told they were male at birth and women with A cups and M cups and folds and ribs and you know what? Every single one of them is beautiful.  Beautiful, complicated, powerful and amazing.  So in the end, and I'm sure you guessed this, it's not really about plus size boudoir photography- it's about woman-size boudoir photography.  Curvy or flat, tall or short, it's time to stop waiting.  It's time to give yourself permission to embrace that beautiful complicated powerful and amazing self and love her just the way she is.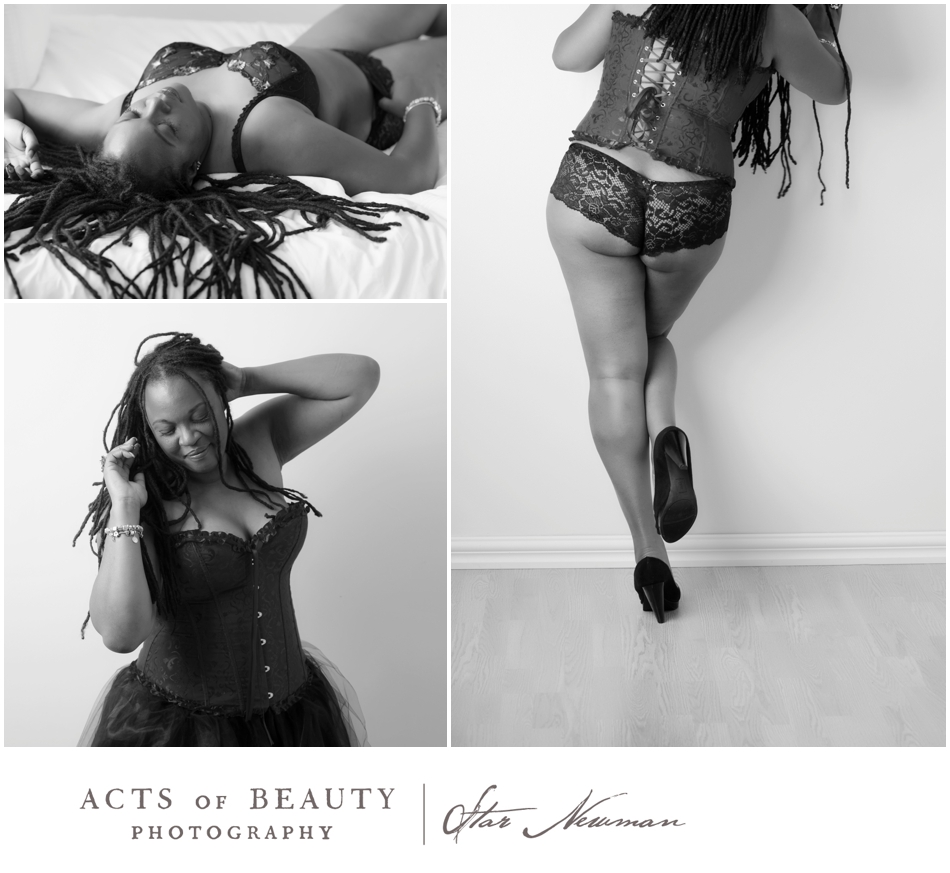 ~~~
READY TO BOOK YOUR OWN SEXY, CONFIDENCE BOOSTING BOUDOIR SESSION?
Looking for a photographer you can trust to do your curves justice? Sure, I'm great (and modest, too!) but if you're not in Alberta don't despair. Here's a list of boudoir photographers who want to photograph you! Note: Starred entries are photographers I know well and can personally vouch for. The others are all photographers who have asked to be included in this list because they believe size is irrelevant to beauty and they love photographing women of every shape. As always, do your research!
THE AUTHOR
*Me, of course. 😉 Star of Acts of Beauty Photography- Boudoir Photography in Edmonton, Alberta. You're already here, so click around!
USA
*Stormy of Rebel & Romance Boudoir Photography- Boudoir Photography in London, Paris & New York
*Meg of Contours Boudoir- Boudoir Photography in Jackson, Mississippi
*Jen of Breathless Boudoir- Boudoir Photography in Charlottesville, Virginia
*Beth of Lost Highway Imaging- Boudoir and Pinup Photography in Connecticut
*Lynn of Lynn Clark Boudoir- Boudoir Photography in Denver
*Petra of Bella Boudoir- Boudoir Photography in Kansas City
*Brooke of Brooke Summer Photography- Boudoir Photography in Denver, Colorado
*Danea of the Boudoir Coterie- Boudoir Photography in San Jose
*Elizabeth of Torrid Boudoir- Boudoir Photography in Pflugerville, Texas
*Mistie and Emily of Little Black Dress- Boudoir Photography in Orange County, Inland Empire, Costa Mesa Riverside and Rancho Cucamonga, California
*Agnes of The Yellow Brick Road Collective- Boudoir & Creative Women's Portraiture in New York
Natalie of Natalie Kita: Boudoir, Bolder- Boudoir Photography in Delaware, Philadelphia, Baltimore, and DC
Shalista of Voir Mon Amour- Boudoir Photography in Sioux Falls
Danie of Danie Lauren Photography- Boudoir and Conceptual Photography in Carney, MI
Cayan of Cayan Ashley Photography- Fine Art Portrait Photography in Milwaukee
Nirusha of Roosh Photography- Boudoir and Women's Portraiture in Virginia
Melissa of Under The Garter Boudoir Photography- Boudoir Photography in Denver
Cliff of Woman As Art- Women's Art Photography in Princeton, Indiana
Alaynna of Vintage Imagery- Boudoir Photography in St Louis
Angelina of Angelina's Boudoir Photography- Boudoir Photography in Santa Barbara
Jeniffer of Life Noir Boudoir- Boudoir Photography in Eastern Montana
Crystal of Captivate Boudoir- Boudoir Photography in Columbia, MO
Ashley of Ashley Rescott Photography- Boudoir Photography in Stafford, Virginia
Jillian of Jillian Todd Portraits for Women- Boudoir Photography in Sacramento
ShaRelle of ShaRelle Studio Photography- Boudoir Photography in Shreveport, Louisiana
Alecia of XOXO Alice Boudoir Photography- Boudoir Photography in St Louis, MO
Angela of Angela Woolridge Portrait- Glamour & Boudoir Photography in Columbus, Ohio
Manda of The Exquisite Sessions- Boudoir Photography in Fort Walton Beach
Cathy of Cathy Nance Intimate Editorial Art- Boudoir and portraiture in Houston
Angela of Whirlie Girl Boudoir- Boudoir Photography in Southwest Florida
Terri of Audacious Images- Boudoir Photography in Oklahoma City
Canada
Re of Re Bastien Boudoir- Boudoir Photography on Vancouver Island
Victoria of Boudoir by Victoria- Boudoir Photography in Montreal, Quebec
Jessica of Artist Jessica Rae- Boudoir Photography in Vancouver and Fraser Valley
Corrine of Studio 519- Glamour, Beauty & Boudoir Photography in Ontario
Teri of Teri Hofford Photography- Boudoir Photography in Winnipeg, Manitoba
Randy of Seductions Boudoir- Boudoir Photography in Saskatoon, Saskatchewan
Kari of Lux Portraiture- Boudoir Photography in Vancouver
Brooke of Captured Essence- Family and Boudoir Photography in Nanaimo, British Columbia
International
*Stormy of Rebel & Romance Boudoir Photography- Boudoir Photography in London, Paris & New York
Jordan and Peter of Boudoir Fusion Photography- Boudoir Photography in South Africa
Jacqueline of Jacqueline Lock Photography- Boudoir, Pinup and Glamour Photography in Sydney, Australia