Your Boudie FAQ
When you're considering a boudoir shoot, there are a lot of questions that are going to go through your mind. Here are some of the ones I hear again and again:
Is hair and makeup included?
Yes! My makeup artist and partner in crime Michelle Grad is an internationally acclaimed artist who has travelled the world with me. She will work with you to create a look you love and that is uniquely you- no one-size-fits-all glam here. All you have to do is relax, sip something bubbly and let her pamper you.
Do you share my images?
Only if you want me to! Your comfort and safety are my number one priority. The reason you see so many different women on my website, Facebook and Instagram is that lots of women are excited to show their images to the world, not because it's a requirement.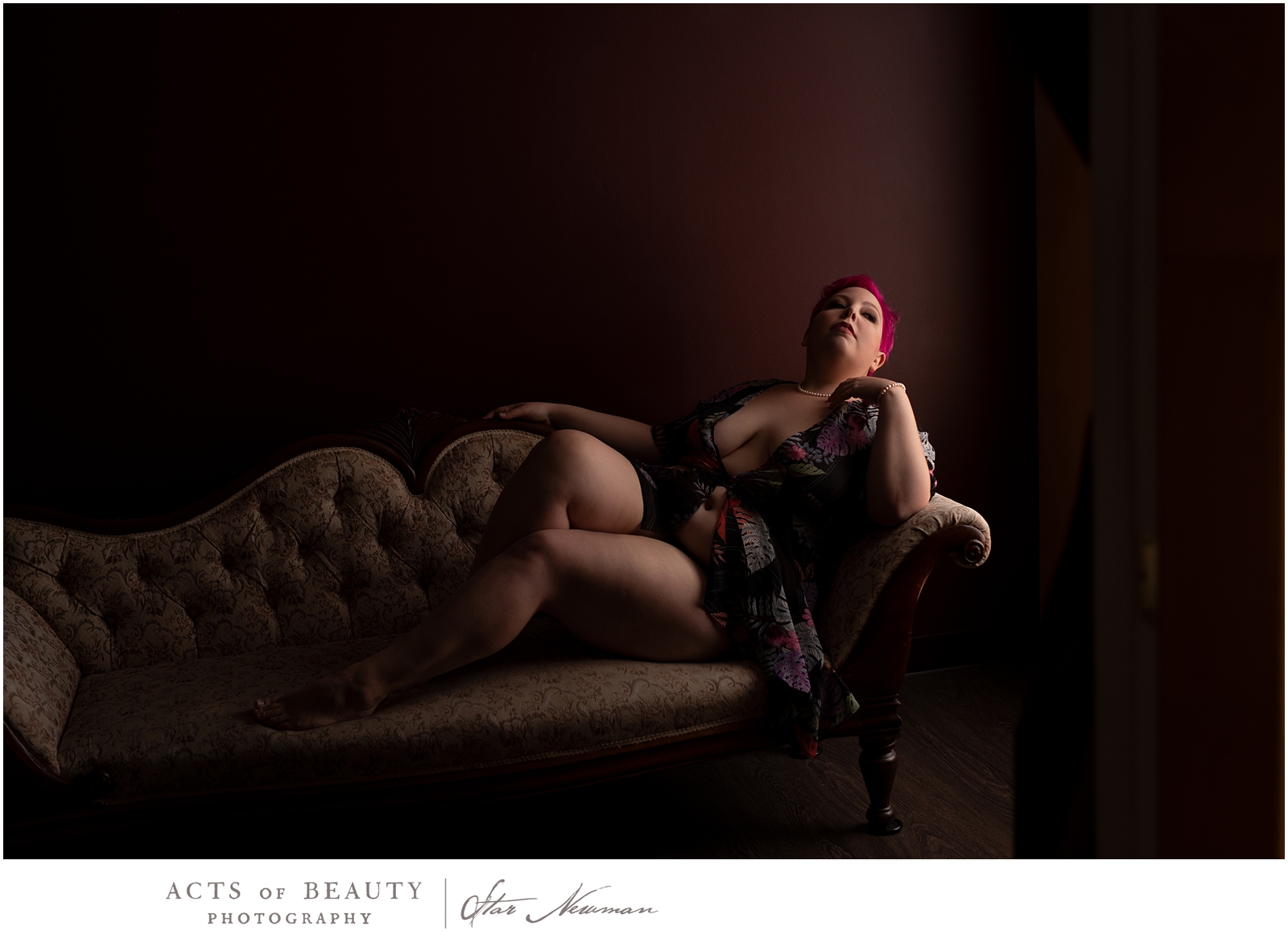 What should I wear?
Short answer: Whatever makes you feel sexy or beautiful. Long answer: This can be anything from Parisian lingerie to your favourite comfy sweater or geeky t-shirt. 😉 When you book with us we send you a complete prep and wardrobe guide, and at your consult we'll talk over what you want to wear and help you make any tough choices. We can even arrange complimentary personal shopping experiences at local lingerie boutiques. Don't stress it, we got you!
Do you have payment plans?
Absolutely! We have flexible payment plans available at your ordering session, and we've even introduced pre-payment plans- so if you book your shoot at least 2 months in advance you have the option of paying for some products in advance and getting fun bonuses, from lingerie gift cards to vintage polaroid snaps.
Do you Photoshop my images?
Yes, but no. Yes, I edit lighting, colour balance, and details like acne and cellulite. No, I don't edit you to make you look a different size or shape. Good editing is like good makeup; it enhances what's there, it doesn't fundamentally change you.
Boudoir is about learning to love your body the way it is, and part of that is being authentic and not Photoshopping out parts you don't like. That being said, if there are parts of your body you're still uncomfortable with or just learning to love, rest assured that I use will use flattering light and posing to make you look your best; those parts won't worry you in the final photos, I just don't need Photoshop to do that.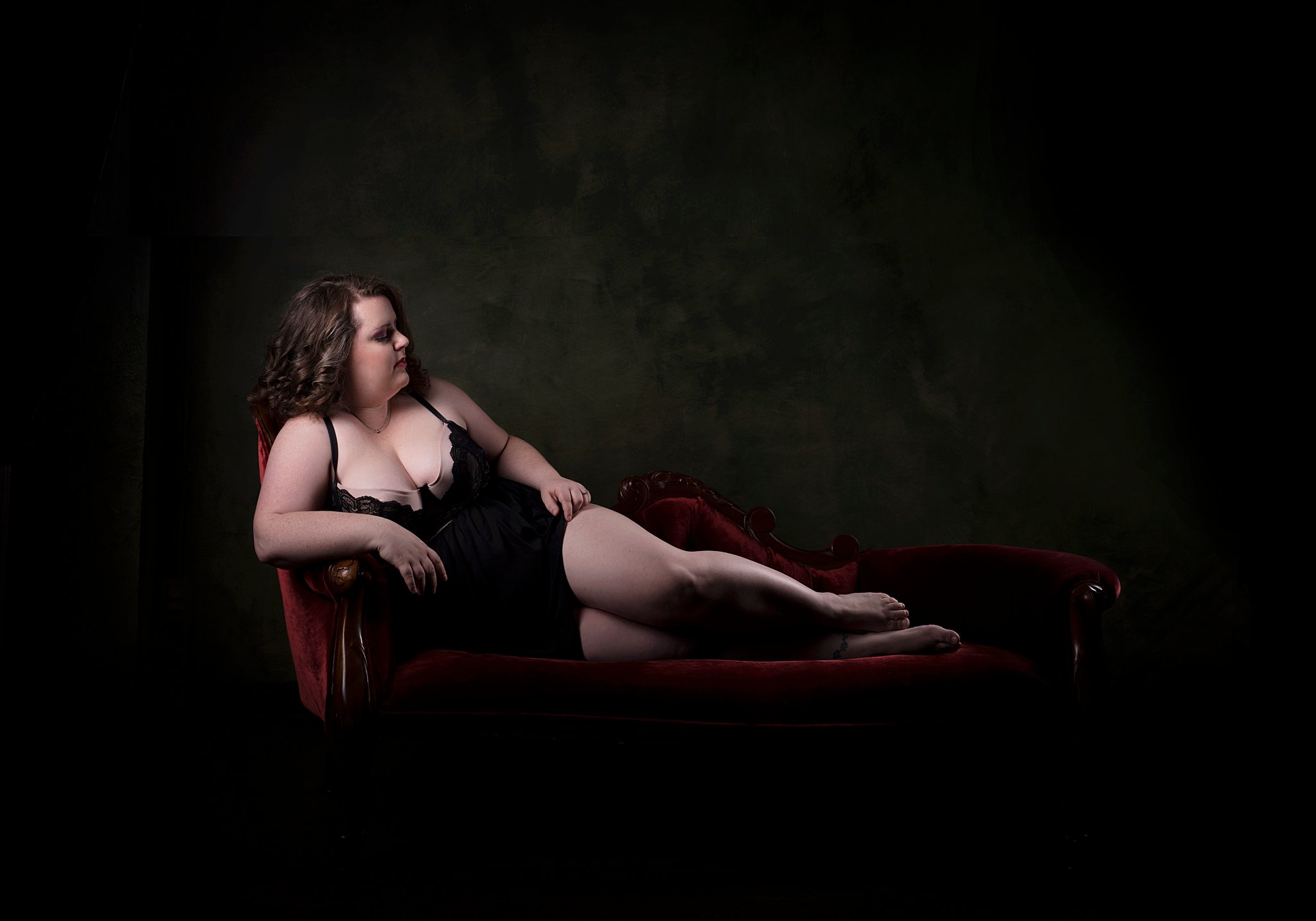 What print products do you offer?
Gorgeous custom-designed heirloom albums and classic wall art with a beautiful brush-laminate finish. There's something wonderful, in this digital age, about a tangible printed photograph, and having a gorgeous photo of yourself on the wall is a great daily reminder that no matter what your hair is doing that day, you ARE all that and a bag of chips.
Do you offer digital images?
Yes, it's entirely up to you how you want to enjoy your images. Digital collections and albums cost about the same amount, or most women get both for a great discount in one of our packages.
How many outfits should I bring?
We do things a bit differently around here- for all of our regular studio experiences we don't count the minutes and we don't police how many outfits you bring. That being said, we find 4-5 different "looks" (we include nudes as a look if you choose to do them) is the sweet spot for giving you lots of variety in your images without getting bogged down in constantly changing clothes. We want you to be able to be in the moment!
Where should I shop?
My favourite lingerie boutique in Edmonton, especially for gorgeous bras and panties, is Princess Lingerie- they do custom fittings and have great customer service. Night Owl Lingerie in Manulife Place is the place to go if you want to indulge in incredible European imports, Midnight Magic in St Albert has a good selection of plus-sized lingerie, and Torrid, Addition-Elle and La Vie en Rose are mainstream retailers that usually have great finds (word to the wise, Torrid has a better selection online than in stores).
If you want some helping finding lingerie you love, you can text me photos as you shop or we can set up a complimentary personal shopping experience with one of our fab local boutiques. We have your back!
What if I don't like my photos?
You will. I know you are having trouble believing it, but you will. I have literally never had anyone not like their photos, because I know what a good photo looks like and I only show you photos I'm sure you will love. I have been doing boudoir photography for more than 15 years and I am one of the best in the world at what I do. However, if you don't love them you get your money back.
I'm so freaking nervous, help!
It's okay, nerves are totally normal. It's part of what makes your boudoir shoot such a high- doing this totally terrifying thing and then having it turn out to be awesome fun that makes you feel amazing is a totally exhilarating experience. I promise, once you get in the studio door it will be fine!
Have more questions? Email me at star@actsofbeauty.ca and we'll chat!